Spark 2021 Agenda
To kick off Spark 2021, we'll introduce our steering committee and the theme for the year: Rooted in Data, Grounded in Community.
🗣 Take a
pre-conference poll here
to learn who is in the room!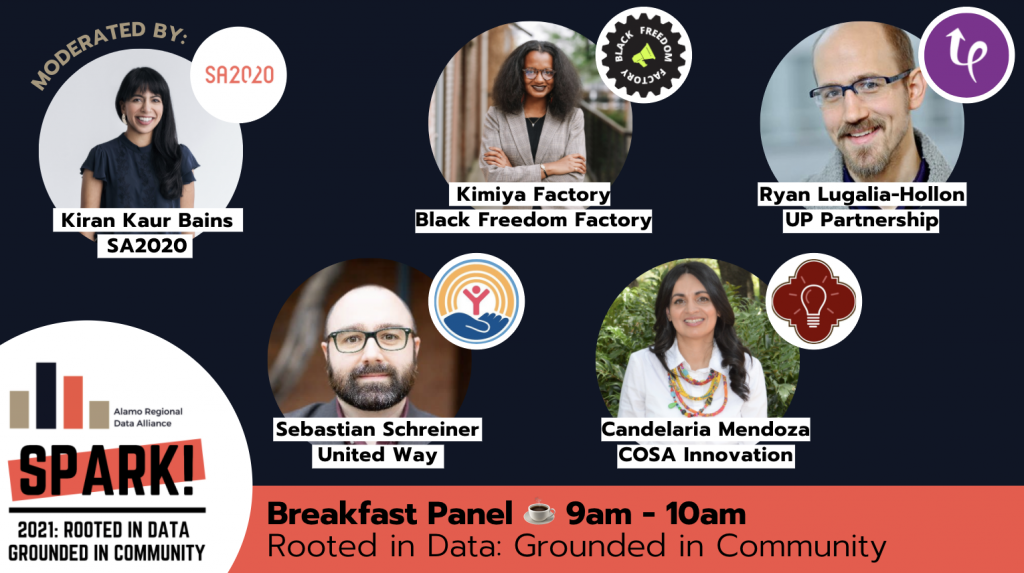 Grab a coffee, pastry, or a smoothie, and join us at your computer for a breakfast discussion of this year's theme. How can data be used to inform community decision-making, and how is community engagement data gathering in itself? Join some local thought-leaders and change-makers in our discussion of how to ensure a  community- and data-driven future in San Antonio.
Moderated by:
Kiran Kaur Bains, President & CEO, SA2020
Kiran Kaur Bains became SA2020's President & CEO in early 2021. Kiran is a 2020 Atlantic Fellow for Racial Equity. Kiran previously served as the first Chief Equity Officer for the City of San Antonio, where she helped ensure that local government policies, budgets, and services met the different histories and needs of San Antonians. Prior to joining local government, Kiran worked in international development and peacebuilding in South Asia and East Africa. A proud first-generation college graduate, Kiran is passionate about racial equity in education. She has taught classes on leadership, power, and dismantling anti-Black racism to young women of color in New York public high schools and aspiring teachers and school administrators at the University of Texas at San Antonio. Kiran holds a BA in International Relations from St. Mary's University and MA in Peace Studies from the University of Notre Dame.
With Panelists:
Kimiya Factory, President/Executive Director, Black Freedom Factory
Kimiya Factory (She/her) graduated from the University of Texas at San Antonio with a Bachelor of Arts in Political Science and a minor in Legal Studies. While Leading/Co-Founding the movement #ChangeRapeCulture, Factory challenges Title IX policies regarding structural violence and sexual misconduct at institutions in San Antonio,Texas. Factory is the President/Executive Director of Black Freedom Factory, an organization that encourages Data-Driven Activism, Diversity by Redefining Professionalism, Diversity and equity regarding race relations. In 2020, She was voted Top 3 of The San Antonio Current's 'Best Community Activist' and also Co-Host's The Get It Texas! Podcast. Factory is actively working alongside advocates in the City to achieve accountability in the interest of grassroots efforts for vulnerable populations through Southwest Folk Alliance PAR Research and The Semillero Movement Assembly: An Ofrenda For Unity Youth Project. Factory identifies as a Queer Indigenous Afro-Latina.
Ryan Lugalia-Hollon, Executive Director, UP Partnership
Ryan is a scholar, restorative justice champion, organization builder, and collective impact organizer. He serves as the Executive Director for UP Partnership, an education and youth development backbone that seeks to ensure all young people in San Antonio are ready for their future. Ryan's first book, The War on Neighborhoods, was published by Beacon Press and tracks the devastating impact of mass incarceration on one Chicago community area. He received a Ph.D. in Urban Planning and Policy from the University of Illinois at Chicago and B.A. in Anthropology from the University of Chicago.
Candelaria Mendoza is a Smart City Coordinator for the City of San Antonio. She is currently leading several efforts for the SmartSA initiative that include collaborating (co-creating) with City stakeholders, partners, IT staff, vendors, and the community to create an ecosystem that will leverage resources for innovation and Smart technologies to ultimately improve the quality of life for the San Antonio community. She has led many successful initiatives throughout her career that include: technology strategy, capital projects, early literacy, strategic planning, digital inclusion, and community engagement.
Sebastian Schreiner serves as the Vice President of Planning and Evaluation with United Way of San Antonio and Bexar County. Sebastian Schreiner's core interest has always been to work at the intersection of data, technology, and social change initiatives. Being able to speak the language of all three areas has continuously allowed him to serve as an integrator and translator between historically often isolated areas of work. With a background in Community Organizing and Social Work, as well as a continuous interest and skill-building in the application of data for change measurement and improvement, process improvement, and technology integration, he has become a trusted resource in the design and implementation of data-informed initiatives in service of social justice work. He holds dual graduate degrees in Social Work from the University of Louisville, Kentucky (MSSW) and the Katholische Stiftungsfachhochschule (Dipl-SozPaed FH) in Munich, Germany, and is an Alumni of the German Academic Scholarship Foundation, Germany's most prestigious postsecondary scholarship program.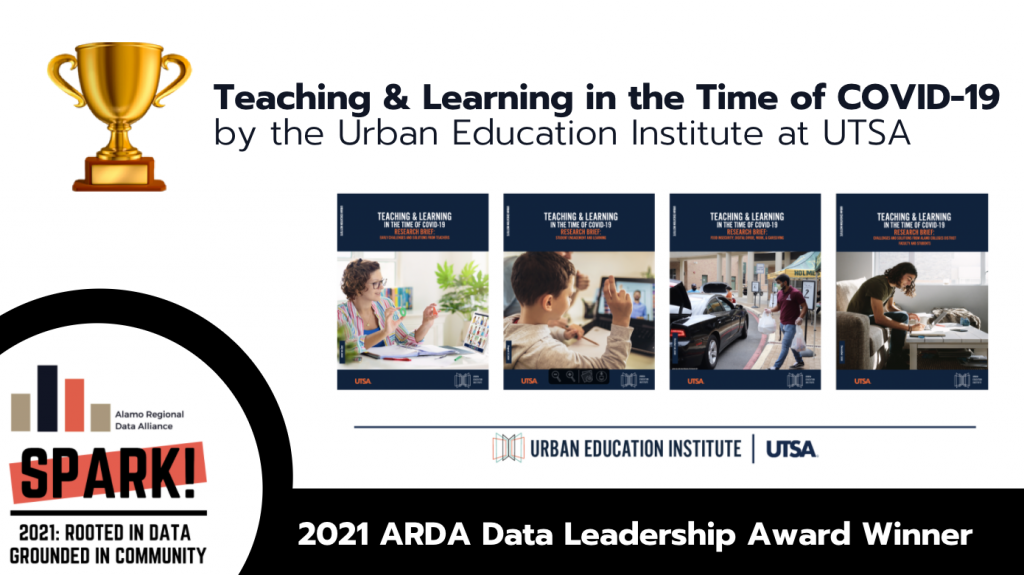 We're thrilled to announce the winner of our first ever ARDA Data Leadership Award who will present their work at Spark - "Teaching and Learning in the Time of COVID-19" by the
Urban Education Institute at UTSA
. View their series of pandemic emergency distance learning reports about local K-12 schools and The Alamo Colleges District
here
.
1. Overview of R.
Jamie Ford,
NISD
and Alonso Cordova,
NISD
Are you interested in open-source software? Have you heard about R as a data analysis and statistical tool but not sure what it is or where to start? Join us to see a quick overview of using this versatile and rapidly growing coding platform to obtain, calculate, model, report, and visualize data.
2. Qualtrics Survey Design.
ReNee Lewis and Jessica Flowers,
SAISD
This session will give you an overview of the powerful data collection and analysis tools available through a Qualtrics free account. Learn to design survey instruments using a variety of question types and free templates. Receive an overview of Qualtrics' built-in data reporting tool. And, see a real world example of how Qualtrics was used to gather community feedback.
3. Racism & Power as Determinants of Health.
Dr. Kim Baker
, Assistant Professor and Director of the Office of Public Health Practice and Engagement at the University of Texas Health Science Center at Houston School of Public Health
Dr. Kim Baker is the Director of Office of Public Health Practice and Engagement at UTHealth School of Public Health (UTSPH) where she is committed to ensuring that students have every opportunity to make an impact on public health issues that are of great importance to them. She also serves as an Assistant Professor at UTSPH where her research interests include reproductive/sexual health, health disparity elimination and the impact of racism on health. She manages We Can Do More, a multi-partner system level intervention to increase access to contraception for women in Harris County. She has also developed sexual health interventions informed by community needs targeting males, faith institutions and health providers. She is also the co-founder of Full Circle Strategies Consulting Group working to lessen the impact of racism through research, training & coaching. She received a Bachelor of Science in Biology from Hampton University, a Masters of Public Health from University of Nevada Las Vegas, and her Doctorate of Public Health from UTHealth School of Public Health. She is married with two kids.
1. CQI and Distinguishing Signal from Noise.
Mark Graban, Author of Measures of Success and Ginger Walker, Data Consultant
If we stopped wasting people's time, what would they do with it? Too often, organizations spend resources responding to noise in their data, rather than signal. This session will give you a fundamental understanding of continuous improvement and the tools to distinguish signal from noise in your metrics.
2. Using R Studio for Equity.
Wendy Dodson, AAMPO

Using R Studio to look at Environmental Justice and Equity Layers. Using R Studio we extracted the demographic layers and used Experience Builder to show it visually.
3. 2020 Census: The Good, the Bad, and the Ugly.
Lloyd Potter,
State Demographer of Texas
The 2020 Census was recently completed. What ramifications will the count have for the future? Come learn directly from the State Demographer.
4. Uncovering the Benefits of Business Analysis: A Methodology for Understanding your Business
John Sorensen CBAP, CSM, IIBA Alamo City Vice-President and Samantha Perez CSPO, CBAP, IIBA Alamo City President
Business Analysis improves the quality and outcome of any project, but Business Analysts are sometimes underutilized or misunderstood. In this session, we will cover what business analysis is, the definition of the business analyst role, and you will learn two techniques that you can start using today.